A quality suits exuberates class and finesse. Whether you are going to a wedding or a christening, a good suit will transform your look, make you appear more gentlemanly and help you create a lasting impression as well. Don't buy a cheap suit that will say goodbye to your wardrobe in two years. Instead, invest in a good tailored piece that could last for decades and remain fresh forever.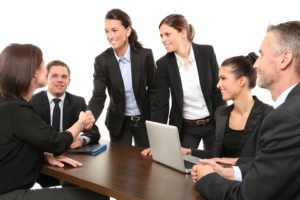 We talked to CT shirts, experts in suit design, to bring you a short but definitive guide to buying great suits.
Focus on the material
Whether your suit will look good or not depends on its material. Suits made with natural fibers are the most dependable. Polyester suits should be avoided at all costs. They often retain heat and even though they are very lightweight, they will be very uncomfortable. A 100% wool suit is always a great addition to your wardrobe.
Mohair and silk suits are also good. They have a lustrous look. Most high-quality suits have some added Lycra as well. This helps in improving elasticity and keeps it looking like new for long. Check out the 'Super' number in the suit. The higher this number, the better, finer and lighter the material will be.
Don't forget to check the material of the buttons. Plastic buttons break easily and are prone to chipping as well. For durability and good quality, focus on corozo nuts.
The design
How a suit is designed, shows how well it will fit your body and what kind of occasions it can be worn on. The most essential element of a suit's design is its weave. It shows how threads have been used to create a definitive pattern. The most stylish of them is the twill weave. It has a silken finish with diagonal line of fabric. A classic but stylish alternative for formal occasions is the herringbone weave with its characteristic 'V' design.
You can also opt for a canvassed suit jacket that keeps layers of materials between the outer fabric and inner lining. This canvassing helps in retaining the shape and structure of the suit, giving your body a more defined silhouette. These days, floating canvas varieties are more popular as they have a loose middle layer that helps the suit in molding to your body shape.
The details
The details of the suit define its quality. The lapels of the suit are folds that sit on either side of the opening on the chest. The lapel roll needs to fall and curl perfectly, depending on the size of your shoulders and collarbone. In low quality suits, the lapel sits flat. The customization of the suit depends on the back vents as well. Your body should sit well and be comfortable as well. The flexibility of the suit also defined its quality.
Make sure that the stalk loops on the jacket are well made too. This is not a necessary feature for the suit, but its shows that your suit has been designed to perfection. If the buttonholes are frayed, then the suit could appear cheap.
Follow these guidelines and you will definitely love the new addition to your wardrobe.
Sources
https://www.hawesandcurtis.com/blog/style/superior_suits
https://www.gentlemansgazette.com/how-to-spot-a-quality-suit/
http://www.telegraph.co.uk/men/fashion-and-style/10373114/Trade-secrets-what-to-look-for-when-buying-a-suit.html
http://ukmcbo.tumblr.com/post/85115442645/choosing-the-right-suit-lapel