Like the clothes we wear, our kitchens also say a great deal about our personality – so why shy away from it? A well-designed kitchen is the difference between reflecting your own tastes and what you consider to be fashionable. With the help of Harvey Jones – specialists in bespoke fitted kitchens – we've put together the perfect guide to knowing what type of kitchen you really are.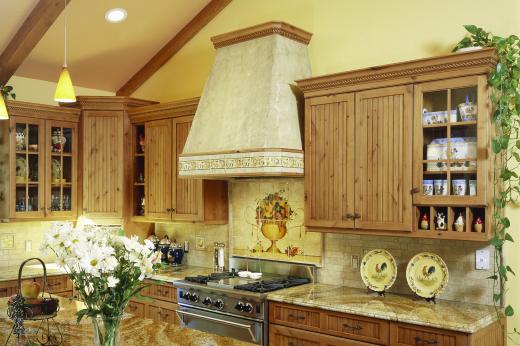 The chef who masters the kitchen
You're the type of cook who loves making specially prepped meals for everyone. Do you research cutting-edge cooking techniques, and never shy away from exploring what's innovative in cooking? If you like to take what's best about a professional kitchen and incorporate it into your own home, then look no further: you're a Master Chef.
Time is always well spent in the kitchen. You make sure your recipes are thought out, and your food is delicious every time. Ovens, bread makers and other gadgets are all designed to the highest specification in your kitchen. If it's the difference between a good and a bad meal, then you're always ready to buy the latest gadgets too keep your cooking Michelin–esque.
Hot-water taps should always be an essential in your kitchens, but you don't just use them for making cups of tea – you need it as part of your cooking routine. Induction hobs boost the functionality of your kitchen, and it means that pastas and vegetable dishes are always cooked in minutes for your guests.
Islands topped in stainless steel can provide your kitchen with a professional look – but if you're more inclined to go for a look that's timeless, a cool stone worktop is always your first priority.
The baker who's always generous
In your kitchen, you always cook food communally, and everyone is welcomed with the warm smells of breads and other delicacies. Your kitchen is a workshop, so it's bound to take a hammering; to solve this problem, you always use surfaces that are durable and easy to clean.
A farmhouse feel is always incorporated into your kitchen's design, and you use modern slant, a peninsula or an island anywhere you can to complete this look. When kids are going to be running around, you make sure that worktops and cabinets have soft edges – so that everyone stays safe when you're cooking.
Everything can be found easily in your kitchen, and there's a place for everything. When your hands are full, accessing foods quickly and easily is always something that you keep in mind. As another help to the kids, you'll have a water dispensing fridge – so they can take a drink whenever they like without the help of mum and dad.
A larder is a must have, full of every ingredient that you can imagine, so you're ready to make or bake any recipe that you get your hands on.