If you're travelling around the US and want to visit a picturesque lake nestled in the mountains, Lake Tahoe is the place to visit. Your experience will be different depending on the time of year that you go. Summer is full of water sports and it's a hotspot for skiers in the winter.
Accommodation varies from hotels and resorts up to high-end Lake Tahoe vacation rentals. It's quite easy to get to and is a place to spend a few days at any time of the year. This article explains how to plan your perfect trip to Lake Tahoe this year.
Where is Lake Tahoe?
Lake Tahoe is located on the border of California and Nevada. It's about a two-hour drive from Sacramento on the Californian side or an hour from Reno. The lake is surrounded by beautiful mountains.
How to Get to Lake Tahoe:
It's easier if you're already in one of these states. You can either rent a car and drive, which is the best option or take the shuttle bus. Tourists often fly into Reno-Tahoe Airport before renting a car and driving to the lake. Some resorts offer a complimentary shuttle bus to and from Reno.
If you're not driving, take a shuttle bus. But, this is expensive and a one-way ticket can cost up to $50 depending on the part of the lake you want to go to.
Where to Stay at Lake Tahoe:
You can stay on the Californian side of the lake if you're looking for a relaxing few days. This has more outdoor activities and tends to be quiet and peaceful. The Nevada side, on the other hand, is packed full of casinos and has the 24/7 lifestyle. Both sides contrast each other and it's nice to check out both if you have the time.
You also have the choice between staying in the northern or southern parts of the lake, which will depend on what kind of activity you want to do. Research in advance and plan your accommodation carefully. It's also worth mentioning that the southern part is often cheaper.
There are several towns that hug the side of the lake on both sides of the border. You can also visit and stay at some of these too.
What to Do at Lake Tahoe:
You can do a lot of water sports during the warmer months including kayaking, jet skiing, and sailing. Companies such as American Whitewater Expedition offer white water rafting experiences and you can look here for their website. Other summer activities include hiking and camping in the mountains.
Skiing and snowboarding are popular in the winter months from November to early April.
My favourite time to visit is in spring. There are fewer people and the weather is still pleasant. It's too warm for snow and too cold for water sports. You can still enjoy the environment and go hiking.
It's also possible to rent a bicycle from one of the many shops and cycle around the lake. Renting is cheap and it's also a great way to get some exercise. You can cycle from one town to the next when you're sightseeing and it works out cheaper than taking the bus or buying fuel.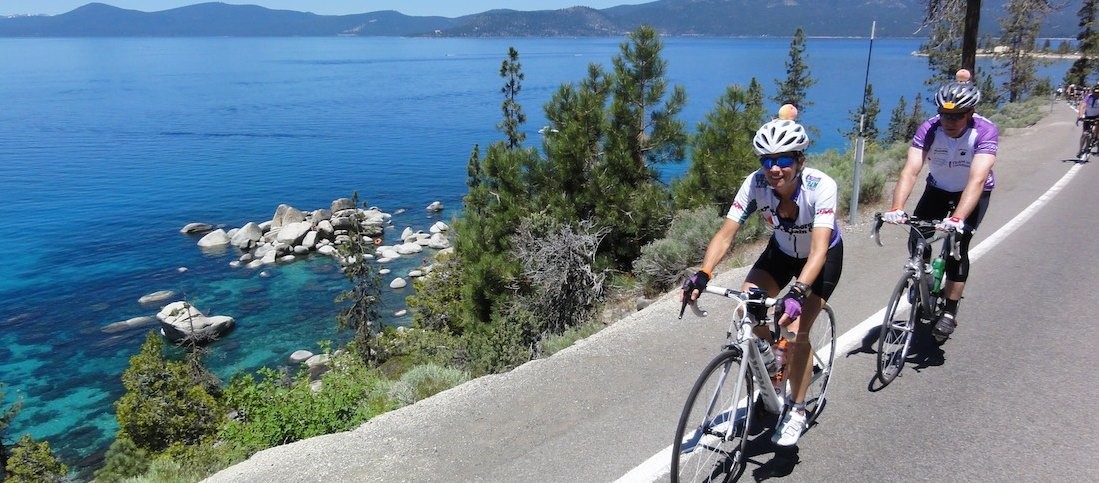 Image from:
http://biketahoe.org/bike-tahoe-disclaimer/
The Best Places to Eat at Lake Tahoe:
You have a wide variety of options available for food and drink at Lake Tahoe. Cuisines range from Italian, Mexican, and Fast Food and you also have a few buffet options.
Money Saving Travel Tips:
You can save money by planning your trip in advance. This doesn't need to be months before you go, but a few weeks can make a big difference. You can find several deals and discounts by searching online and there's a number of packages available.
If you can drive, renting a car is the best thing to go especially if you're travelling as a family or group. The cost of the shuttle is very high and it will probably work out around the same price to get a car instead. This also gives you the flexibility to travel around and not rely on taxis or other public transport.
If you're at the lake during the winter for snowboarding or skiing, most tourists make a huge mistake of renting their equipment from the resort. This is much higher than other rental shops because they know people will hire them. If you're lucky, you may be able to save up to 30-40% of skiing equipment by renting at an independent shop. If you're planning on coming up for the water activities, you are welcome to bring your own Kayaks, as there are plenty of launch sites dotted around the lake.
The Takeaway Message:
The lake is a good place to visit and travel to at any time of the year. Water sports are popular in the summer and people come for the skiing during winter. You can also enjoy a lot of outdoor activities and take in the scenery. If you do decide to visit, plan in advance and don't make the same mistakes as others by falling into the common tourist traps.