Summer is just around the corner. Spring is unfolding its warmth and magic, and this is the perfect time to buy a pair of new loafers. They are the perfect shoes for any occasion and very comfortable too. The best thing about these shoes is that they go very well along with a modern ensemble, whether you have a formal or casual setup. Here is a loafer cheat sheet that you will need.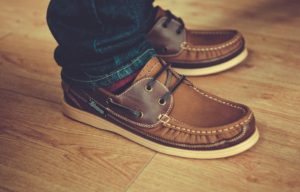 The seasons
You can't wear the same loafer in every weather. When the seasons get colder, i.e., late autumn and winter, choose a leather shoe. This will help you look classy without compromising with the cold. For warmer seasons like spring and summer, you should choose fabric or suede shoes. They are perfect for the season's vibes and match well with brighter and lighter colors too.
The styles
Loafers for men are available in five distinct styles. Depending on your personality and the occasion, you can choose a shoe that suits your needs the most. The most popular variety is the penny loafer. It has a leather strip front.
Choose a penny loafer in leather, and you are ready to rock any casual or dressy outfit. Moccasin loafers are styled with a weave on top, which resembles a typical moccasin. The only difference between the two is the sole. Loafers have separate soles while traditional moccasins do not.
The tassel loafer was an Ivy League staple in the early 1900s. They came with a fancy tassel that added more personality and decoration to the look. The apron loafers have extra fabric on the top while Italian loafers come with a metal clasp on the top. They are great for business meetings or other formal events.
How to wear loafers?
When you want to wear look summery and stylish, opt for loafers with shorts. They look better than flip flops and add more depth to your look. For an updated casual look, opt for loafers that come in traditional blacks, browns, and oxblood. Then pair them up with a sharp casual style, and you have a look that everyone will envy.
For formal settings, the Italian loafer is always the best choice in traditional colors. As these are ankle shoes that do not fit snugly around the shoes, ensure that you do not wear baggy pants along with them. Fitted pants look great but straight A-lines with perfect hemlines are also good.
To sock or not to the sock?
You can wear these shoes without socks, especially when you are wearing them on casual occasions. Modern European styles also include sockless shoes. However, with very formal events, you may want to try socks in basic, muted and traditional colors with the loafers. Know that in most settings, these shoes must be worn independently. If you are wearing chinos and blazers, opt for tassel loafers. If you don't want to overthink about the style, just opt for penny loafers. As a rule of thumb, pointed shoes are more stylish than their rounded counterparts.
Now you are equipped with all the knowledge you need to buy the shoes of your choice. Don't forget to share us your ideas for pairing the loafers with different ensembles this season.