Whether you have a bachelor's pad to decorate, an allocated room in the house for your man cave or home office, or you have gone the full way and gotten yourself a smashing man cave shed from Modern-Shed (https://www.modern-shed.com/sheds) or elsewhere, there are plenty of things you can do in terms of decoration to make it an awesome place to be. There are so many themes, gadgets and features you can incorporate into the space that will make it your perfect escape!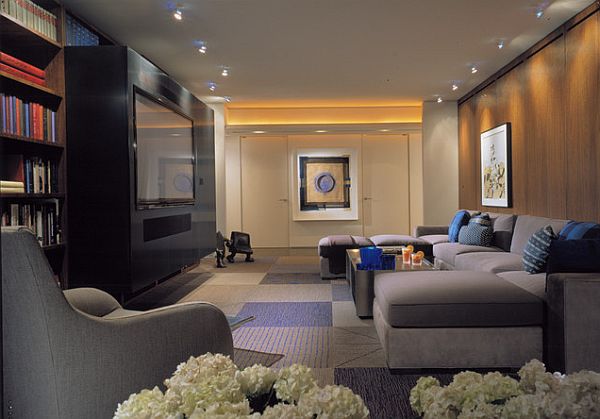 First thing to consider is the walls…. think wallpaper and paints (usually a pretty boring concept for most of us, especially when it involves picking between two shades of cream!). But you have full control of this, so why not have a bit of fun? If you're into Marvel, go ahead and have the comic strip wallpaper… it's your space after all! Perhaps look into Justice League posters and other comic book decor available to jazz up those plain walls. If that's not your thing but you're still wanting to go for something bold why not consider a 'statement wall' with one bold colour, or have one wall dedicated to artwork, posters or collectibles such as sporting memorabilia or deactivated guns. Install shelves onto the wall to display these in a glorious fashion, they will make for great conversation piece for when your friends come round.
In terms of colour it's best to stay neutral with blacks, greys, whites and browns making popular choices. If you love colour, use this sparingly, either by one 'statement' wall, like we suggested before, or using it within the accessories. You don't want the room turning into an eye sore, that looks like a rainbow has thrown up in the house!
Wood and stone textures are also something to consider in terms of décor ideas to make it feel like a proper man cave. If you're lucky enough to have an outdoor space, like a barn or outhouse, then leaving the wood bare can make it feel rustic. If you wanted the rustic feel but don't have a wooden structure, why not recycle wooden pallets and use these to cover the walls? Staining the wood can add a great effect. And if this sounds like a little too much effort, there are plenty of patterned wallpaper options to add character to the room.
Another feature which can add character is a vintage map, if you love travelling or love the idea of it- why not add in a huge world map? You can use this to document all the places you've been, or all the places you want to see. This piece will not only be for decorative purposes but a visual reminder of the great times you've had or are about to have!
What man cave would be complete without a bar? We highly suggest not putting this in your office, as this would be a big distraction. But then again it worked for the Mad Men?! It is a great feature that will keep your friends entertained and it doesn't have to take up a lot of space as a corner bar is sufficient. Add in a fridge, or mini-fridge, glass racks, wine coolers and a shelf to display the spirits. Something similar to this Beer Bottle Display might also be a great addition to your bar and will certainly impress your friends. You could also chuck in a couple of interesting bar stools for when you are socialising.
Every room must have a focal point, whether this is the statement wall with your collectibles or a big 50″ flat screen TV, the room will not feel complete without it! Decide on the theme of your room and make sure the focal point brings the whole design together.
Well… now for the extra fun part. All the gadgets and fun features that truly make a man-cave a place of escapism. This is where you can make a bland old space the place of your dreams. Whatever your interest, whether its sports, gaming or cars, there are gadgets and features that will suit your interests. If you're a bit of a gamer, incorporate a big TV, maybe some pin-ball machines if you're pushing the boat out. If you're more of a classic sports and pub sort of guy, then put a pool table in the middle of the room so you can play matches against your friends. If you love reading, and especially if you're decorating an office, make sure you have a grand bookcase with all of your favourite novels that you can read in a comfy armchair.
Leather furniture can be a great furniture piece, as they are elegant yet not overly 'dressy'. We recommend picking furniture that is simple and robust, in strong and bold colours, so that it will complement the rest of the design in your man-cave. You don't want to be going for something that looks soft and 'pretty' as it will completely clash with the rest of the design. But most importantly the furniture must be comfortable. This is the top priority! What's the point in having furniture that looks good but you don't actually want to sit on it? You'll end up never spending time in your man-cave if there's nowhere comfortable to sit down!
The most important point of all is to make sure the spaces you decorate reflect your personality and personal tastes, regardless of what anyone else thinks.