Are you marrying the love of your life this year? Firstly, congratulations. While your to-do list might be pretty lengthy, for most brides, hair, dress and make-up are pretty high-importance. You'll want to wow your guests as you walk down the aisle – and of course, your future husband to-be.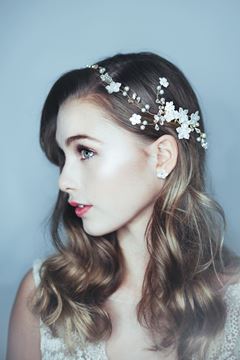 With plenty of new wedding hair trends emerging for 2017, bespoke wedding headpiece design house, Rosie Willett Designs, shares the very best wedding hair trends that this year has to offer.
Boho bounce
One of the top trends goes to the boho bounce – as it has done for numerous years and 2017 is no exception. The opportunity to wear a crown (albeit one made out of flowers) is irresistible — and of course mega-stylish! This year, think floral vines, pearls and crystals on a garland that you can shape your hair around.
It's all about polished soft waves – 2017 is the year of the sleek boho look that exudes volume and bounce.
Braid it up
A braid or two can transform a simple pin-up into an effortlessly stylish look. They add a healthy dose of drama that can help to keep your hair in place and create a look that says perfection from day to night.
Worrying that braids may be too simple for your big day? A tiara or hairband could be the perfect accessory to add a bit of glamour. A hair vine could even be entwined into the braids, adding subtle sparkle to your up-do.
Simple styles
The simple styles showcased in the 2017 bridal runway collections could be the perfect choice for those brides who have opted for a heavily embellished or embroidered wedding dress. You'll want to keep your hairstyle simple so to not distract your guests away from your dress.  Leave the wowing to your dress and choose simple accessories such as a wedding hair comb to accompany simple twists or flowing styles.
We might have picked just three of 2017's trends, but there are thousands of hairstyle possibilities within each one. We've whittled down the trends for you; now it's over to you to choose your dream bridal hairstyle.